MORE OF THE WWWoW
PREVIOUS ENTRIES
On this page, you will find even more previous entries from the original WWWoW page.
This project is updated randomly.
>>>>>>>>>>
In what is commonly seen as the first known use of modern psychological warfare, the German Lt. Von Hidessen dropped thousands of French leaflets over Paris in 1914.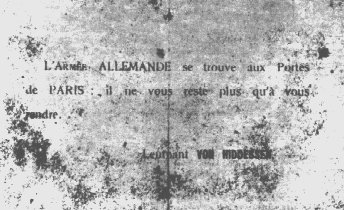 The translated leaflet reads:
"The GERMAN army is at the Gates of PARIS: the only option now is to surrender. - Lieutenant VON HIDESSEN"
>>>>>>>>>>
In 1984, Canada's Pezzaz Productions (owned by PezAmerica Resources Corp.) release a line of cassette tapes titled Greetings from the Stars. The line's subtitle was "Humorous Recorded Greetings Just for You," though anyone could buy them.
There were several series, such as Happy Anniversary, Cheer Up, Getting Married, plus the strangely out-of-place What Is Love?, and each series contained three 70s celebrity has-beens rambling on about said topic.
Side B of the tape was left blank, so one could record their own rant. The cardboard was then to be folded inward and taped, as it had a space on the backside of the packaging for an address label. Afterwards, it could be mailed out to any friends, family, or enemies you wanted to cheer up, send birthday wishes to, or just mildly annoy.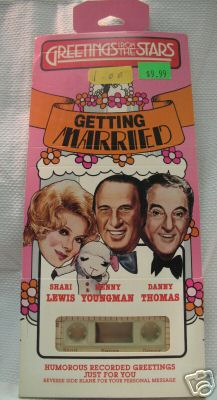 Here are some choice cuts from this wacky bunch of jokesters.
Dom DeLuise (168 Kb @ 24Kbps)
Don Adams (116 Kb @ 24Kbps)
Don Adams (119 Kb @ 24Kbps)
Ed McMahon (110 Kb @ 24Kbps)
Ed McMahon (117 Kb @ 24Kbps)
Henny Youngman (135 Kb @ 24Kbps)
Jonathan Winters (146 Kb @ 24Kbps)
Phyllis Diller (133 Kb @ 24Kbps)
Phyllis Diller (137 Kb @ 24Kbps)
Shari Lewis and Lambchop (221 Kb @ 24Kbps)
Sid Caesar (168 Kb @ 24Kbps)
>>>>>>>>>>
Joshua Abraham Norton (1819 - 1880), was a London-born businessman, who in 1849 moved to San Francisco, CA, and soon lost his fortune investing in Peruvian rice. This setback severely damaged Norton's mental capacity and he soon lost his mind. Upon returning to San Francisco in 1859, from what he termed an "exile" (though self-imposed), he sent letters to every newspaper he could, proclaiming himself "Norton I, Emperor of the United States". He would later add the title, "Protector of Mexico".
Whether it was due to his good nature or public pity, the locals humored him. He sent proclamations to the local paper (which they would print), and could often be seen inspecting the streets of San Francisco in his blue and gold uniform. He was so loved that he was fed, gratis, at most restaurants, printed his own money, which was accepted in all local stores, and in 1867, when arrested so as to commit him to a mental asylum, the public protested and held rallies for his release - even having newspapers run pro-Norton pieces. Upon his release he granted the arresting officer a pardon, and, from that moment on, all city police officers saluted him.
On January 8, 1880, Norton collapsed and died on his way to a lecture. Upon his death the San Francisco Chronicle published a long and somber obituary on the front page, with the headline "Le Roi est Mort" ("The King is Dead").
Today, most everyone is unfamiliar with Emperor Norton, though many see his face often, as it is used by Wells Fargo in their logo.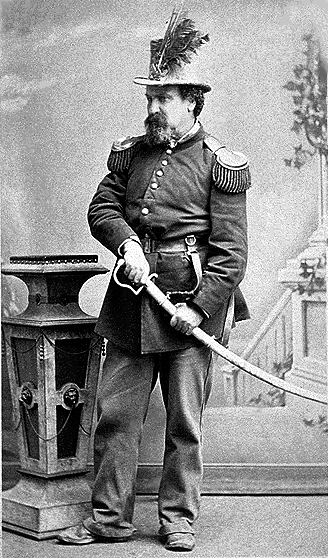 These are images of his royal bank notes (strangely enough, collected by, and housed in the Wells Fargo History Museum):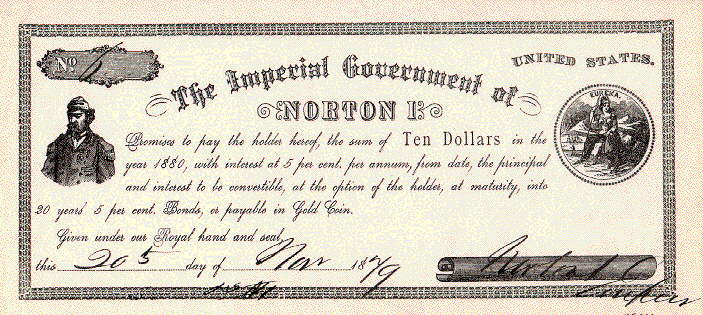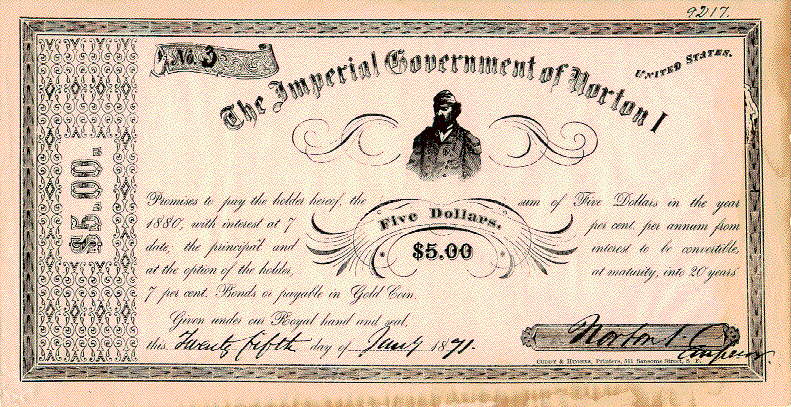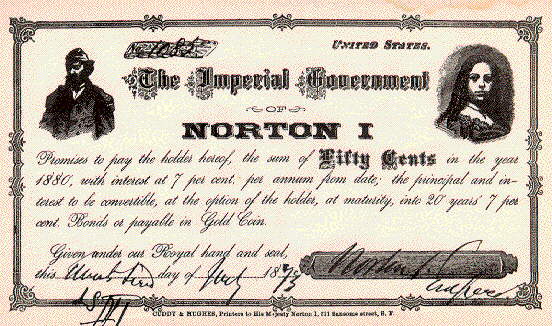 Click on images for larger view.
>>>>>>>>>>
In May of 1978, Little Roger and the Goosebumps, a band from San Francisco, released a single on Splash Records, both being the brainchild of cultural anthropologist Roger Clark. The A side of said single was a spoof on "Stairway to Heaven" with the lyrics from the TV show Gilligan's Island replacing the original's.
In a little over a month, lawyers representing the band Led Zeppelin threatened to sue the hell out of Mr. Clark, asking that all copies be destroyed.
Except for a few 7"es that were already distributed, the band complied by nixing the single, as well as the song from their set list.
In 1980, they recorded another single, "Kennedy Girl", which was based on Neil Young's "Cinnamon Girl". Young did not sue.
After years of internet infamy, and eBay sales of the single going for $1000 or more, Roger Clark reformed the band and produced their debut album They Hate Us Cuz We're Beautiful, with 14 new recordings of songs from three decades of original material.

Here is a music file of the song that started it all:

Little Roger and the Goosebumps - Gilligan's Island (Stairway) (3 Mb mp3 @ 128Kbps)

>>>>>>>>>>

In the late 1950s, Harper's Magazine asked a few comicstrip artists to draw their favorite characters. First, regularly, and then blindfolded.
Below are images from that issue's experiment, including Chester Gould who did Dick Tracy, and Chic Young trying out his Dagwood (of Blondie).
The results aren't just worth a giggle, they're a bit interesting as well.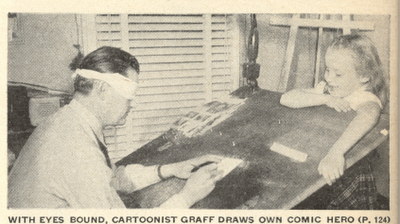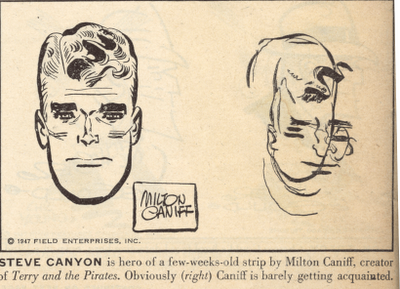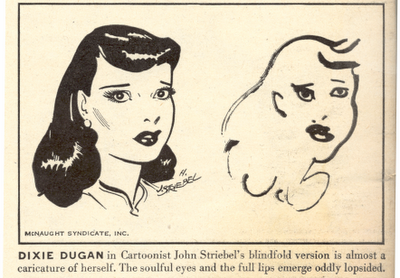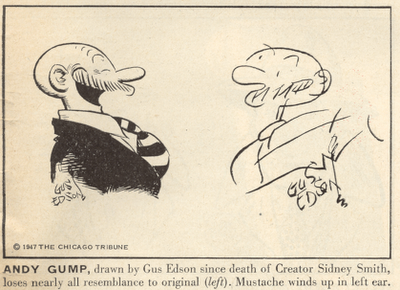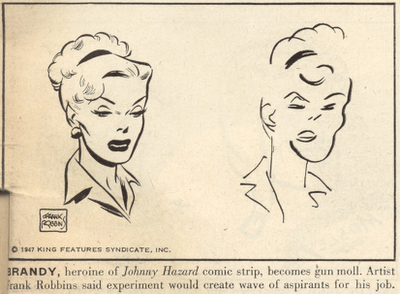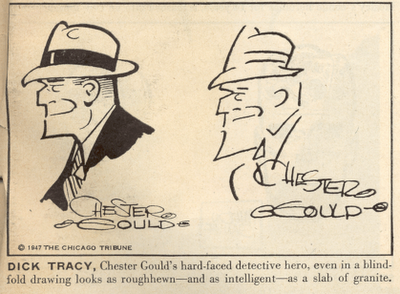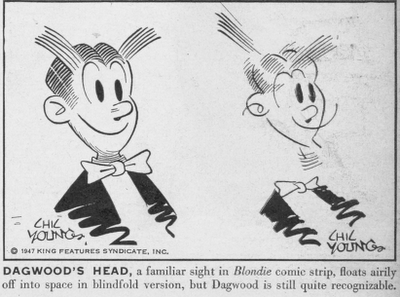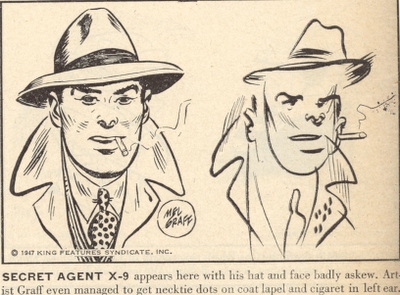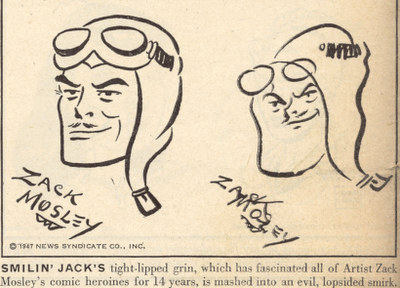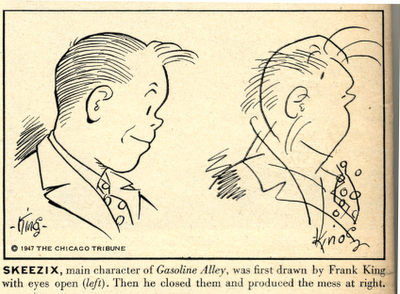 >>>>>>>>>>
In Ghana, as well as some other African countries, movie theaters usually play bootleg copies of a film because they cannot afford the rights to play such fair.
If they can't afford to pay a distribution company for a movie, how do you think they'll promote the playing of a film, seeing as they can't ask for movie posters for a movie they didn't order, right?
Enter, the African movie poster bootleg trade:
More often than not, the movie posters are a hell of a lot cooler than the actual movies being played.
Click on image for larger view.
>>>>>>>>>>
The Shemp Meditation Tape was release in 1993 by the freeform New Jersey radio station WFMU, and was created by Dave the Spazz, who was one of their DJs at that time.
It soon became the biggest seller in what was their short-lived mail-order catalog, Catalog of Curiosities (1993 - 1997).
Dave the Spazz wrote about his creation:
"Recommended for new age nitwits and chucklefucks alike, scientifically mixed in Shemp-A-Rama for your enlightened casaba-banging pleasure. Soar the Horwitz heavens and become one with Shemp's karma on the Heee Beee Beee Beee side. Transhempify your mind and cook your chakras on the life-infirming Ahh Ha Ha Ha Ha Ha side."
Below are links to both sides of this incredible, soul-expanding cassette tape.
Side 1 - Heee Beee Beee Beee (28 Mb mp3 @ 128Kbps)
Side 2 - Ahh Ha Ha Ha Ha Ha (29 Mb mp3 @ 128Kbps)
>>>>>>>>>>
Hara Kiri: Journal Bête et Méchant (Hara Kiri: Stupid and Evil Magazine) was a satiric periodical founded by Georges Bernier, Cavanna and Fred Aristidès in 1960. An attempt by the French government to ban it occurred in 1961 and 1966, only to have it officially banned in 1970 (by the minister of the interior Raymond Marcellin) after a cover blurb about the death of general Charles de Gaulle.
Click on images for larger view.
>>>>>>>>>>
In the links below Robert Anton Wilson (1932 - 2007) self described "agnostic mystic", American novelist, philosopher, futurist, and all around libertarian, discusses with Eugene Jeffrey Gold (1941 - ) American artist, author, jazz musician and spiritual teacher in the tradition of Gurdjieff, discuss a wide range of topis, including drugs, religion, society and mystical awareness on the 1980 double cassette release, Conversation on the Secrets of the Illuminati.
Tape 1 - Side 1 (21 Mb mp3 @ 96Kbps)
Tape 1 - Side 2 (21 Mb mp3 @ 96Kbps)
Tape 2 - Side 1 (21 Mb mp3 @ 96Kbps)
Tape 2 - Side 2 (20 Mb mp3 @ 96Kbps)
>>>>>>>>>>
The link below is an audio-tour from a show held at the Metropolitan Museum of Art from May 3 - Sept 4 of 2006 called, AngloMania: Tradition and Transgression in British Fashion. Your tour guide is none other than Johnny Rotten of The Sex Pistols aka John Lydon of Public Image Limited.
AUDIO TOUR GUIDE (1.4 Mb mp3 @ 24Kbps)
In the commentary he reads the lyrics to The Sex Pistols' "God Save the Queen", explains the use of safety pins in fashion, quotes Shakespeare, rants on class war, and kisses the listener.
No future? Maybe not for you, because he sure is living very well.
>>>>>>>>>>
Who would have thought that a shitty musical stage show about transvestites from space would lead to so much?
Written by Richard O'Brien and opening in London, June of 1973, it spawned a movie (The Rocky Horror Picture Show, 1975) and a slew of countries staging their own performances and releasing album after album, from the UK, the US and Germany to Iceland, Korea and Mexico.
This is the Norwegian version of "Sweet Transvestite" called "En Hip Transvestitt". (2.1 Mb mp3 @ 96Kbps)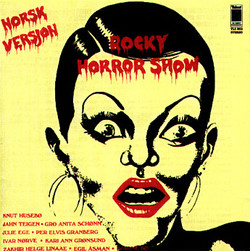 This is the Mexican version of "Sweet Transvestite" called "Dulce Travestista". (2.3 Mb mp3 @ 96Kbps)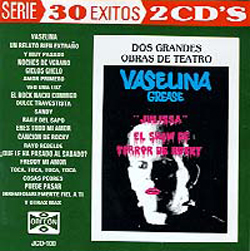 This is the Icelandic version of "Sweet Transvestite" called "Taumlaus Transi". (2.4 Mb mp3 @ 96Kbps)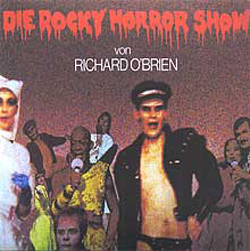 >>>>>>>>>>
In 1972, Anne Kilmer (professor of Assyriology, University of California, and a curator at the Lowie Museum of Anthropology at Berkeley) transcribed one of the oldest known pieces of music notation, and is the "Hymn to Nikal".
The clay music tablets are in the cuneiform script of the Hurrian language, and were excavated in the early 1950s at ancient city of Ugarit (in Syria).
The tablets date back to approximately 1400 B.C. and is a song for the moon god's wife, Nikal. Remarkably, the tablets also contain detailed performance instructions for a singer accompanied by a harpist as well as instructions on how to tune the harp.
"HYMN TO NIKAL" (17 kilobyte MIDI sequence)

>>>>>>>>>>
In a Party City advertising flier circulated to thousands of North Texas residents, a message above the word Hanukkah read: "C.C. hates the Jews." The flier was to announce items the Party City store was selling for the Jewish holiday.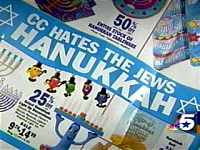 The advertising company, ADVO, which produced the ad, says a graphic artist at their Pittsburgh shop left his desk and a coworker altered the words as a prank, thinking it would be caught before going to print.
>>>>>>>>>>
The Surrealists speak...
Marcel Duchamp (1887 - 1968) on the creative act, in a speech presented to the American Federation of Arts (Houston, TX) in April of 1957.
The Creative Act (3.4 Mb mp3 @ 64Kbps)
Salvador Dalí (1904 - 1989) is interviewed by David Bryson in 1963.
Interview (3.6 Mb mp3 @ 64Kbps)
Antonin Artaud (1896 - 1948) final work, Pour En Finir Avec le Judgement de Dieu [To Have Done with the Judgment of God], was recorded for a Radio France broadcast in 1947. It was to air in Feburary of 1948, but was pulled for its anti-American, anti-Catholic and scatalogical rants (he died the following month).
Pour En Finir Avec le Judgement de Dieu [excerpt] (1.8 Mb mp3 @ 64Kbps)
Translation: Lunatic asylums are dumpsites for black magic, conscious and premeditated. Not only do doctors encourage the magic through their irascible and stupid therapies, but they produce it. If there were no doctors, there would be no patients because it is through doctors and not patients that society began. Those who live, live through the dead. Death must also live. There is nothing like a lunatic asylum to gently brood death and keep the dead incubated. It began 4000 years ago before Christ, a therapeutic technique of slow death. Modren medicine, as an accomplice to the most sinister and dishonest magic, submits the dead to electric shock, to insulin therapy, in order each day to empty men of their Selves, and present them as empty and fantastically available for the obscene anatomic and atomic solicitations of the so-called bardo state. In electroshock therapy there is also a limp state through which each traumatized victim must go through, leaving him fearfully ignorant of who he was when he was himself. This is a state I once knew, and will not forget it. The bribed medicine lies each time it presents a patient as cured. As far as I'm concerned, by this method I've seen only terrorized people, unable to retrieve their Self. All who go through the electroshock bardo never come back from its darkness, and life is debased. I say it once more: the bardo is death, and death is only a black magic state that until recently did not exist. Artificially creating death in this way, as medicine now does, is to favor the return of an obscurity that never benefited anyone, and from which certain profiteers of mankind have fed themselves since a certain point in time. Which one? The time when one had to chose between renouncing being a man or becoming an evident lunatic. But, what guarantee is there that the evident lunatics of this world can be cured?
>>>>>>>>>>
Here's proof that all artists are whores...
Surrealist artist Salvador Dalí (May 1904 - January 1989), does a commercial for Lavin Chocolate [2 Mb AVI movie],
and a commercial for Alka-Seltzer [2 Mb AVI movie].
While Pop artist Andy Warhol (August 1928 - February 1987) does a commercial for Braniff Airlines. [3 Mb AVI movie]
>>>>>>>>>>
Jim Roche, a performance artist from Dallas, and part of a group of artists called the "Oak Cliff Four", made his way onto the New York art scene in the 1970s and began performance pieces in galleries where he would go into a trance-like state and channel redneck characters from his old neighborhood. He later became a professor at Florida State University.
Many of these channels were released on a double LP, Learning to Count, 1982 by a museum in Kansas, and the album tracks below are some the most racist and sexist audio rants to ever be put on vinyl.
You have been warned!
Hippies are Living Proof - 1971 (1.6 Mb mp3 @ 64Kbps)
Every Man, Woman and Child - 1972 (3.6 Mb mp3 @ 64Kbps)
Cadillac - 1973 (2.7 Mb mp3 @ 64Kbps)
Watcha Doing Down There Boy? - 1975 (3.4 Mb mp3 @ 64Kbps)
Whatsda Matter Wit Jew? - 1977 (2.5 Mb mp3 @ 64Kbps)
>>>>>>>>>>
In November 1978, Congressman Leo Ryan led a mission to Jim Jones' settlement in Guyana called Jonestown after relatives of Jones' Peoples Temple complained of abuses. The delegation arrived in Jonestown on November 15 and spent three days interviewing residents. They tried to leave the morning of November 18, taking with them over a dozen Peoples Temple members who wanted to leave. As they were boarding planes, a truck with a few of Jones' armed guards began to shoot at them. Six people were killed: Representative Ryan, Don Humphrey (a reporter from NBC), a cameraman from NBC, a newspaper photographer, and one defector from the Peoples Temple.
Later, 910+ of the remaining cult members of Jonestown (276 of them children), died in a mass suicide (though many were found to be murdered). Some obeyed Jones' instructions to commit "revolutionary suicide" by drinking cyanide-laced grape flavored Flavor Aid (often misconstrued as Kool-aid), others died by forced cyanide injection or by shooting. Jones was found dead sitting in a deck chair with a gunshot wound to the head, although it is unknown if he had been murdered or committed suicide. Under his "throne" was found a tape recorder, which had caught the suicides.
The link below is a clip of what was on that tape:
JONESTOWN SUICIDE (2 Mb mp3 @ 128Kbps)
For a full transcript of what was on the tape, go here.
Jones' Peoples Temple Choir also released a gospel record, He's Able (1974). The link below is a track off that album.
"Something's Got A Hold of Me" (596 Kb mp3 @ 24Kbps)
>>>>>>>>>>
The World's oldest condom...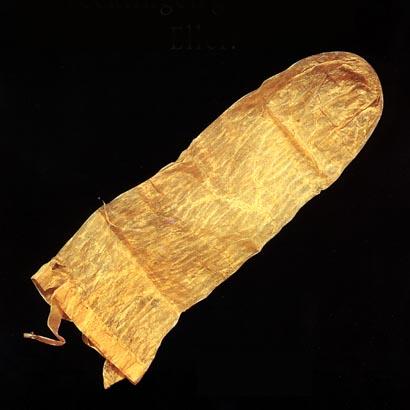 This is a pic of a reusable condom which dates back to 1640, and came with a users' manual, written in Latin. The manual suggests that users immerse the condom in warm milk prior to its use to avoid diseases. In case you're wondering, it is made of pig intestine.
>>>>>>>>>>
What happens when someone straps himself with microphines and walks into a room full of speakers?
THE MAN WITH THE MICROPHONES (7 Mb AVI movie)
Just watch the above linked video of performance artist Luke Larsener to find out.
>>>>>>>>>>
PLEASE NOTE:
THE FHF WEBSITE LOGS ARE CHECKED ON A RANDOM SCHEDULE
FOR HOT OR PIRATE LINKS AND STOLEN BANDWIDTH. YOU ARE NOW FOREWARNED.