FILM & PHOTO
PHOTO PROJECTS
Last year was great, as a handful of my photography appeared in Able Muse, The Sonder Review, and Driftwood Press magazines, plus online in Curbside Splendor's May issue, the newest Olentangy Review, Cactus Heart and Forge Journal, as well as a seven-part series of my text photos at The Journal of Compressed Creative Arts, and Arizona State University's Superstition Review (issue #15), while making the cover for issue #147 of Crack the Spine.
More photo work coming up in a handful of webzines and magazines.
In 2016, I began a new project for Razorcake Magazine's website, plus the textbook The Challenge of Democracy (published by Cengage Learning / Lumina Datamatics) is using some of my photography. Good things are happening, and great things to come, so stay posted.
A few more of my photo projects, experiments, and series, can be seen here.
One of my many series of photos from visits to Dead Horse Bay (2010) has been posted at Underwater New York, a digital journal of stories, art and music inspired by the waterways that surround New York City, and the objects submerged within them. Check that out here.
Back in 2013, I created the photo blogs: Forgotten Rides, Doorway Galleries, and Ad Removal As Modern Art.
They are updated with new entries almost daily. This November makes three years of posting, and I am still having a great time doing it all.
Also, one can read about the Disposable photo series here. New series to come soon.
In March of 2012, I ended a month-long observance, with a series of digital photos. See all of those here. The first was with a broken camera, titled Broken, where I captured shots of the sun behind trees.
In 2013, when ending another similar liturgy, I returned to the Broken series, and had a few produced.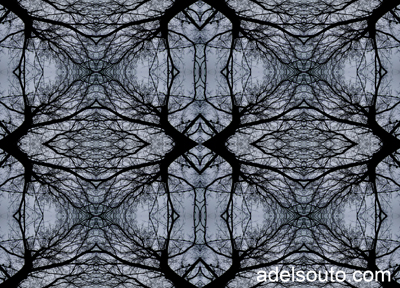 click on image for larger view
They were large (25" x 18"), framed, and looked rather psychedelic. There were five photos in the series, with only two prints made of each photo.
All ten are now sold out.
VIDEO / FILM PROJECTS
I've recently made a music video for my industrial music outfit 156. It's for the first track, "Kokoro", off the 2016 EP, Memento Mori, which was played using only human bones. You can view the video here, and one can purchase the EP on bone-colored 10" vinyl by contacting me.
Brooklyn's Alright If You Like Saxophones is now off the air.
It's been a fun run, and thanks for a wonderful two years airing on Brooklyn Public Network!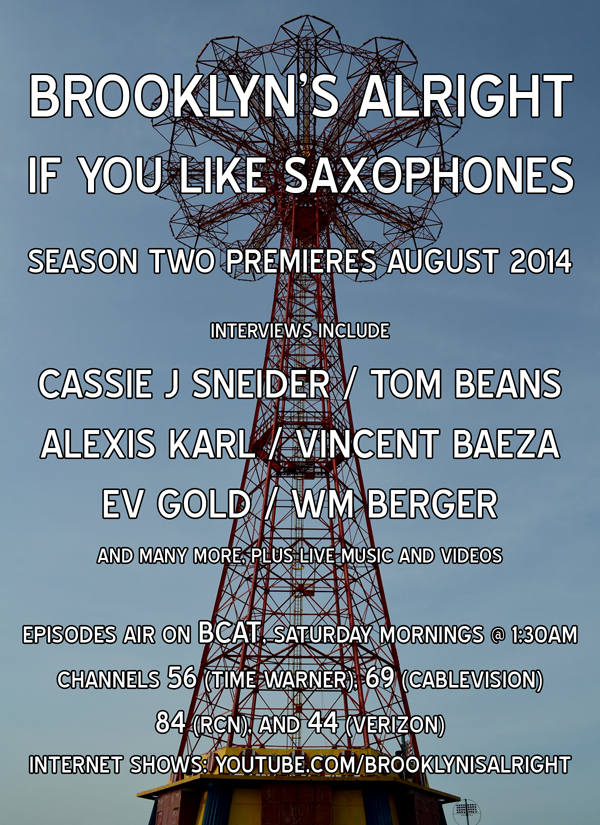 click here for season one flier
You can still see select episode on the Brooklyn's Alright YouTube page.
I made a few short films throughout 2012, and a short doc in 2013.
You can view Staring at the Ground here, Where Even Fools Often Fear to Tread here, and four throwaways, here.
Plus, I made a quick documentary on Max Neuhaus' sound installation Times Square. That's here.
I still carry a camera to a lot of shows in NYC, and place clips of some of the bands on Vimeo.
I'm currently working on a feature-length documentary about NYC subway buskers. Want to help, or be interviewed? Please contact me.
COLLABS + COLLUSIONS
Recently made a new music video montage for Robert Turman's "F-berg" off his CD Square Abstractions.
The music was recorded in Copenhagen, in August of 2014, while the footage was filmed in Brooklyn and Queens in 2015.
You can view it here.
Back in 2013, I created another video montage for his track "Allow Any Radio", from the LP on Fabrica Records, Macro. Check that out here.
My last two collections of backpatch photos, which I took at the Maryland Deathfest, were posted at the No Echo website.

In 2013, I also curated a video montage for Jason Lescalleet's track "Escargot", which is off his double CD Songs About Nothing. You can watch that here.
In 2012, I put together a video montage for Miami duo The Waterford Landing, because the song "Eminent Domain" is one of the greatest synth tracks around today, and it wasn't on YouTube, so now the world can groove to it here.
I played the male lead in Andrew Copp's short film Consumption of the Heart.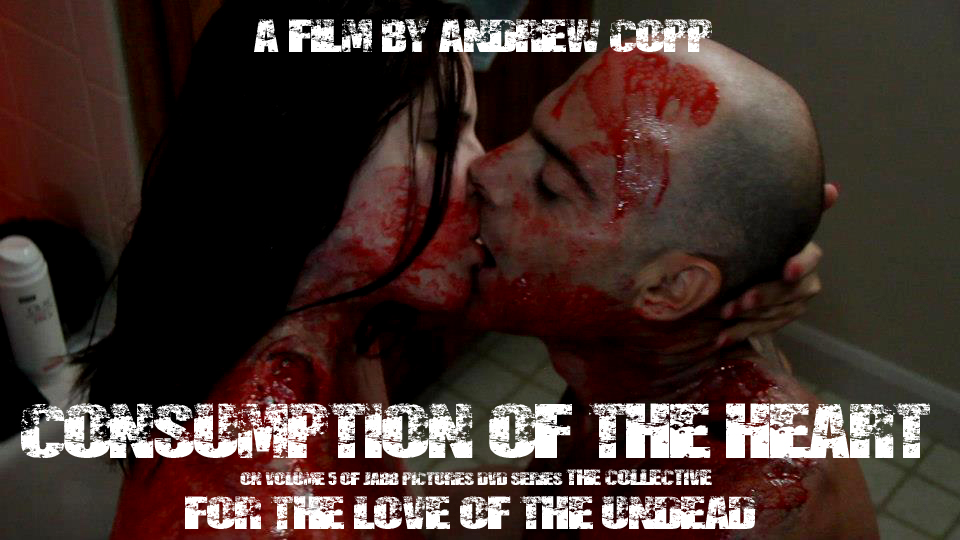 The film is on volume five of JABB Pictures The Collective DVD series. It's a zombie love story like no other. For only $10, you get 10 short flicks by 10 underground directors with one synopsis: the undead.
Rest in peace, Andy (1972 - 2013). You will be missed.
A while back, I finished the narration for a film by Belgian artist )O+AVLL+E, titled RIF / FIR.
It's a surreal mockumentary used in European art installations, and though in sections, totals a seventeen-minute dream that only Dream.Cam.Era could put together.
A prologue is here, and another slice of weirdness is here. The film premiered at Media Wave Festival (Gent, Belgium), August of 2011.
HISTORY
Adel Souto began using photography, video and film in art since his grammar school years.
He began experimenting in digital media during 2008. Since, he has finished several short films, and is now working towards self-funded features, and television. He had a public access tv show in Brooklyn from 2012 - 2015, and is currently filming a documentary.
Full bio here.